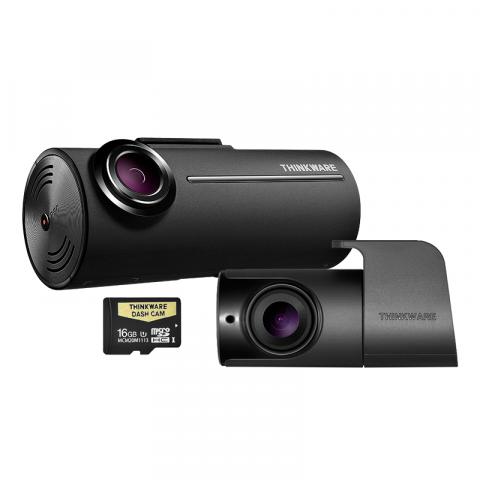 The F100 is one of the most advanced compact dash cams on the market with state of the art video enhancement for its 1080P Full HD 30 frames per second video, rear camera input, optional GPS for data logging and safety camera alerts, dual save, high-temperature protection and parking surveillance mode*. You won't find a better quality dash cam.
The included rear camera gives your F100 system complete front and rear surveillance. It is installed on the inside of the rear window to provide a wide viewing angle, record 720P HD-quality video and detect motion occurring at the back of your vehicle. Using THINKWARE PC viewer or Mobile Viewer, you can view front and rear videos for more comprehensive assessment of an incident.
Note: When being used with an F100 in an F50LOCK locking case, make sure the right-angle plug from the rear camera is at the front camera.
*Requires HWC to enable Parking Surveillance Mode
Features:
2CH capable (pack includes rear camera)
Sony Exmor CMOS sensor with super WDR at 30fps
Wide angle - 135 degrees
Format free 2.0 technology
Win/Mac viewer
Thermal protection
Korean Made Reliability
2-Year Warranty
*** cable can be extended another 4m MAX - 2.5mm 4 section jack to socket (NOT avail through TDJ) ***
Specs:
Front Camera: (F100) Unit Size: 78 x 34.6 x 31.5 mm Storage Capacity Support: MicroSD card (Class 10) up to 8GB or (UHS-1) up to 64 GB Recording Modes: - Continuous Recording Mode (1 Minute Segments) - Incident Recording Mode (G-Sensor Triggered) - Manual Recording Mode - Parking Surveillance Mode - Impact Detection and Motion Detection (Requires HWC hard Wiring Cable) Super Night Vision: No Camera Resolution: Full HD 1080P (front) HD 720P (rear/cabin) Camera Sensor: 2.12 Megapixel, 1 / 5.78" CMOS Frame Rate: 30FPS Video Format: H.264 MP4 Lens Viewing Angle: 135° Approx (diagonal) Video Enhancement: Yes - Intelligent Automatic Exposure Screen Size: NA Audio Recording: Yes Audio Format: PCM G-Sensor: Yes - 3-Axis Acceleration Sensor (3D, +/- 3G) G-Sensor Adjustable: Yes - 5 levels Rear Camera Input: Yes GPS: Yes - Optional GPS Antenna Required - Speed Stamping - Speed Tracking - Location Tracking WiFi: No Smart Phone APP: No Input Voltage: DC 12~24V Auxiliary Power: Built-In Super Capacitor Security LED: No Status LED: Yes Internal Speaker: Yes - Warning Chimes - Voice Guidance for Camera Status - Voice Guidance for Safety Camera Alerts Safety Camera Alerts: Yes - Optional GPS Antenna Required - Red Light Camera - Fixed Speed Camera - Red Light & Fixed Speed Camera - Average Speed Zone - Mobile Speed Camera Zone (Common Area for Mobile Speed Camera) ADAS (Advanced Driver Alert System): No Thermal Protection: Yes Fail Safe Recording: Yes Format Free Technology: Yes Software for PC: Yes (Windows & Mac)
Rear Camera: (F100RA) Unit Size: 56 x 23 x 28 mm Camera Resolution: HD 720P Camera Sensor: 1 Megapixel, 1 / 2.9" CMOS Frame Rate: 30FPS Video Format: H.264 MP4 Lens Viewing Angle: 144° Approx (diagonal) Status LED: IR LED: No Motion Detection: Yes (Parking Mode Only)
Package Contents: 1x Main Dash Cam Unit 1x Mount with 3M Tape 1x Power Cable 1x Rear Cam Unit 1x 5.5 Meter Cable 1x Quick Start Guide 5x Cable Holder with 3M Tape 1x 16GB Micro SD Card 1x Micro SD to SD Card Adapter 1x Quick Start Guide
Optional Accessories: Replacement Mounts: F100MT Plug-in Power Cable: 12VCC Hard Wiring Cable: HWC GPS Antenna: GPSANT Micro SD Cards: - 16GB - SD16GB - 32GB - SD32GB - 64GB - SD64GB
Thinkware Models associated with this Product: