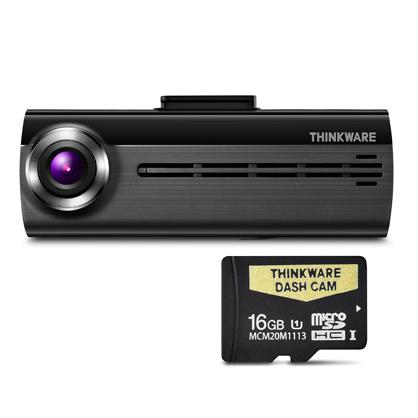 The F20016 is a 2 channel dash cam that records in Full HD 1080p with Advanced Video Enhancement Technology and offers 720p HD at the rear (rear cam sold separately). This high-quality image capability offers drivers excellent coverage at the front and rear of their vehicle, while minimizing blind spots thanks to the 140° wide viewing angle. With its compact design, the F20016 can easily be placed behind the rear view mirror without causing any obstruction to the driver's view. The built-in Wi-Fi functionality also allows drivers to connect the dash cam directly to their smartphone to adjust settings and easily download footage.
The F20016 supports parking mode when installed with a hard wire cable (HWC sold separately) and features Energy Saving Parking Recording, which reduces current drain and puts the camera in sleep mode. When an impact is detected, the camera wakes up and records footage for 20 seconds. When paired with the THINKWARE GPS antenna (GPSANT), the F20016 can also provide speed and location information as well as Safety Camera Alerts, protecting the driver when out on the road.
The F20016 is supplied with a front camera as well as a cigarette lighter / accessory socket power plug. It also includes a Genuine Thinkware 16GB Memory card, should you require more storage the unit will support up to 128GB UHS-1 Thinkware Micro SD Cards.
Features:
Full HD 1080P Front / HD 720P Rear for clear crisp video recordings (rear cam sold separately)
140 Degree wide angle lens will minimise blind spots to ensure recording of all events without fail
Built-In WiFi for video download and setting adjustments on smartphone
Energy Save Parking mode when installed with the optional hard wire kit enables 3 times longer recording in park mode compared to other dash cams
Safety Camera Alerts are enabled when the optional GPS Antenna is connected to warn the driver of speed cameras, red light cameras and mobile speed zones
Video Enhancement Technology cuts out glare, improves image in low light conditions and removes image noise to produce superior quality recordings
G-Sensor Incident detection will detect an impact and securely save and protect the incident / crash footage to the micro sd card
Format Free 2.0 technology saves the hassle of clearing memory space and reduces the risk of corrupt files
Integrated Thermal Protection protects the dash cam in extreme temperatures to ensure recordings are not corrupted
Supports up to 128GB micro SD (UHS-1), hours of footage can be stored
2 years warranty on the dash cam for peace of mind
Specs:
NUMBER OF CHANNELS: 2
RESOLUTION: 1080P (front) / 720P (rear - sold separately)
FRAMES PER SECOND: 30
CAMERA ANGLE: 140°
IMAGE SENSOR / CAMERA TYPE: SONY EXMOR / 2.1M Pixels / ON SEMICONDUCTOR CMOS
DIMENSIONS / WEIGHT: 98.5 X 34 X 22MM / 54G
VIDEO ENHANCEMENT TECHNOLOGY:

WIDE DYNAMIC RANGE: YES
NIGHT TIME PICTURE CORRECTION: YES
INTELLIGENT AUTOMATIC EXPOSURE: YES
NOISE REDUCTION: YES
ADVANCED VIDEO CLEAR: YES
SUPER NIGHT VISION 1.0: NO
SUPER NIGHT VISION 2.0: NO

WIFI: YES
GPS: YES (REQUIRES GPSANT)
G-SENSOR: YES
DISPLAY SCREEN (SIZE): N/A
SUPER CAPACITOR / BATTERY: SUPER CAPACITOR
HIGH TEMPERATURE PROTECTION: YES
OPERATING TEMPERATURE: -10°C to +60°C
STORAGE TEMPERATURE: -20°C to +70°C
POWER INPUT: DC 12/24V
POWER CONSUMPTION: 2CH 3.1W / 1CH 2.3W (mean)
VOLTAGE DETECTION / CUT OFF: YES
ACCESSORY SOCKET POWER ADAPTOR: INCLUDED IN SINGLE CAMERA KIT
HARD WIRE KIT (HWC): INCLUDED IN DUAL CAMERA KIT
MOUNTING TYPE: ADHESIVE
DUAL SAVE TECHNOLOGY: NO
THINKWARE CONNECT

GEO FENCE: NO
VEHICLE LOCATION: NO
IMPACT NOTIFICATION: NO
VIDEO STORAGE: NO

CAMERA ALERTS

FIXED SPEED CAMERA: YES (REQUIRES GPSANT)
MOBILE SPEED CAMERA ZONE: YES (REQUIRES GPSANT)
AVERAGE SPEED CAMERA ZONE: YES (REQUIRES GPSANT)
RED LIGHT CAMERA: YES(REQUIRES GPSANT)

ADVANCED DRIVER ALERT SYSTEM (ADAS)

LANE DEPARTURE: NO
URBAN FORWARD COLLISION: NO
HIGH SPEED FORWARD COLLISION: NO
FRONT VEHICLE DEPARTURE: NO

RECORDING MODES

CONTINUOUS LOOP: YES
IMPACT/INCIDENT: YES
MANUAL: YES
PARK MOTION DETECT: YES (REQUIRES HWC)
PARK IMPACT/INCIDENT: YES(REQUIRES HWC)
PARK TIME LAPSE: NO
PARK ENERGY SAVE: YES
AUDIO/VOICE: YES

VIDEO FORMAT: MOV
VIDEO CODEC: H264
AUDIO CODEC: PCM
MEMORY CARD CAPACITY / CLASS: 128GB / UHS-1
WARRANTY: 2 YEARS (ON CAMERA HARDWARE, 6 MONTHS ON MICRO SD)
COUNTRY OF MANUFACTURE: KOREA
Thinkware Models associated with this Product: